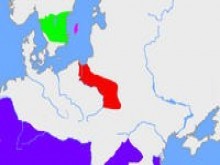 Before Gdańsk was established, the vicinity was inhabited by populations belonging to the various archaeological cultures of the Stone Age, Bronze Age and Iron Age. Settlements existed in the area for several centuries before the birth of Christ.
In the 1st century AD, a new culture called the Wielbark culture appeared in the Gdańsk area. This culture is widely identified as the Gothiscandza, or (Coast of the Goths)that was mentioned by Jordanes in the 6th century. It was characterised by Scandinavian burial traditions, such as the stone circles. In the 3rd century AD, this culture moved to the Ukraine, which they called Oium, and formed the Chernyakhov culture.
It is known that the Kashubians migrated to the area, but it is sure they settled in neighboring areas in Pomerania with the general Slavic people's movement to the north and west from the Pripjet marshes after 600. There are traces of a crafts and fishing settlement from 8th–9th, and — in the 10th century — an important strongold of the Pomeranian dukes and at least 1000 inhabitants.